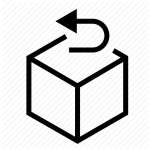 Returns and Exchanges on FULL-PRICED merchandise are accepted by mail or in-store with the original invoice within 14 business days of receipt of purchase. Merchandise must remain in its original sale condition for a refund.
Used or worn merchandise will not be accepted.
Returns made after the 14 day return period will be subject to a restocking fee. If you are unsure if your item is eligible for return, please contact us directly via phone or email and we will be happy to answer your questions.
Our Company ensures that all products (regardless of type) are carefully packaged in order to be delivered to you undamaged. Rarely, however, it is possible that any of these products be damaged during shipment or a defected product is delivered to you. For this reason, regardless of your above right of withdrawal, which is not affected, we draw your attention to the verification of products at delivery. Should you accept to receive the product without expressing any reservation, it shall be assumed that you unconditionally accept the product of our Company. In case of liability of the Company for any real defect or lack of guaranteed properties of the product, you are entitled to: a) require the correction or replacement with another product, unless such action is impossible or requires disproportionate costs, b) request a price reduction or c) withdraw from the sales contract, except for minor real defects. If replacement is not possible with the same or another product of your choice due to lack of availability, you may request an interest-free refund (including shipping costs), provided that the request is made within five (5) days from the product receipt. In these cases, you can directly contact us. After contacting our e- shop, you should call the courier company to pick up the products from you and send them back to us. You are not charged with the return costs of the products, as long as the items are returned in the same condition as delivered, as well as with the same courier company (only for Greece).