The available payment methods are: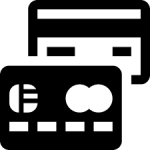 • Credit card: You may pay for your products using your with debit, credit and prepaid Visa/ Visa Electron cards, MasterCard, American Express, Maestro and Diners cards. Your credit card is charged after it has been verified and your order is shipped after the due amount has been removed from your account. All credit card transactions at our e-shop are made in the Eurobank e-Commerce system and are protected by online secure systems which guarantee a secure environment.
• Paypal: Pay via

you can pay with your credit card if you don't have a PayPal account.
• Deposit/Bank transfer to a Company's bank account: IBAN and SHIFT (BIC) will be shown after ordering.